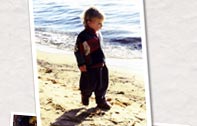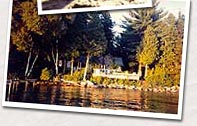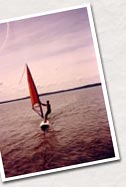 Local Activities and Attractions
TORCH LAKE was named the third most beautiful lake in the world by National Geographic Magazine. The water is so clear you can see the sandy bottom all the way out to the "drop-off." On sunny days, the lake has ribbons of turquoise color that are reminiscent of the Caribbean. Torch is the largest lake in Michigan (19 miles long and about 2 miles wide) and is part of a chain of lakes which allows boating from Elk Rapids to Bellaire. (See article)
WATER SPORTS: Windsurfing, water skiing, swimming, boating, sailing, canoeing, kayaking, fishing.
FISHING: Torch Lake is considered to have as great a variety of species as any area in the state.
ALDEN and Beyond: The town of Alden is a short walk (3/4 mile) from the cottage. Alden offers more than you'd expect from such a small town. It has one of Torch Lake's four public boat ramps, a number of restaurants (both casual and fine cuisine), art galleries, a variety of shops, a playground, a public tennis court, and a library. Green woods and broad fields extend out from the town, offering great cycling and walking.
GOLF: Shanty Creek, about 15 minutes away, has a well-known golf course designed by Arnold Palmer.
HIKING: There are trails within walking distance and many more not far by car.
BIKING: Given the quiet country setting, there are countless choices.
FRUIT PICKING: strawberries, raspberries, blueberries, apples, cherries, peaches, depending on the season.
DINING: Everything from casual dining such as the Dockside Restaurant-just a few minutes by car or boat-to five-star restaurants such as Tapawingo or Rowe Inn-20 miles away in the quiet little town of Ellsworth. As noted, there are also quite a few choices in Alden, including some great "gourmet-to-go" or "Barbecue-Ready" options, and TUMA'S ON TORCH, with an affordable cafe-style restaurant in one half and an upscale restaurant next door.
SHOPPING: There are many antique shops and art galleries in the area; Brownwood Acres is a few minutes away, offering shops, a restaurant and some interesting history. Traverse City, Charlevoix and Petosky, all within an hour's drive, offer wonderful shopping as well.
SIGHT-SEEING: Should you choose to venture further afield, Interlochen National Music Camp (offering excellent concerts), Sleeping Bear Sand Dunes, Mackinac Island, or Hartwick Pines are well worth visiting. There's also plenty to explore nearby in Traverse City, Charlevoix, Elk Rapids and the Leelanau Peninsula.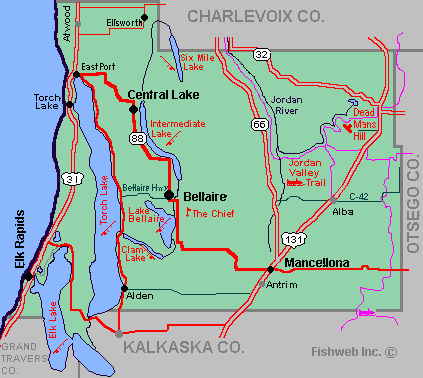 Torch Lake and Area Facts and Stats
Home | Features | Availability/Rates | Area Info
Photo Album | Testimonials | Contact Us